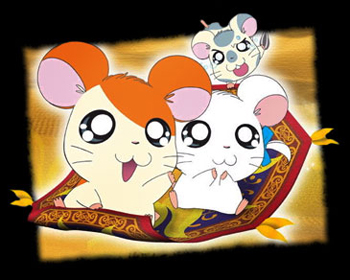 About Hamtaro :
The Hamtaro animated television series follows the adventures of Hamtaro, an insatiably curious hamster, and his group of hamster pals, known as the "Ham-Hams." Ten-year old Laura, Hamtaro's owner, and her friends are not aware that when they head to school, their pet hamsters gather together in the Ham-Ham Clubhouse to plan their next adventure. Most of the time, the Ham-Hams spend their days keeping Laura and her classmates out of trouble, but sometimes the precocious pets find themselves in a dilemma of their own.
Based on the popular illustrated children's storybooks created by Ms. Ritsuko Kawai first published in 1997, the Japanese television series, "Tottoko Hamutaro" was introduced in Japan in July 2000. Since that time, Hamtaro has become one of TV Tokyo's top-rated kids television programs and is presently a $3 billion property in Japan.
In the US, Hamtaro premiered on Cartoon Network in June of 2002. The show is currently broadcast in over 40 countries around the globe.
Source :www.shopro-entertainment.com/hamtaro.html