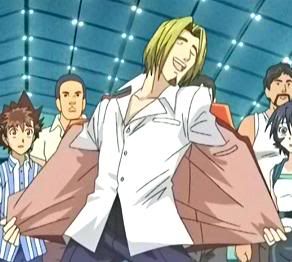 Natsuhiko Taki Inf0rmation :
Statistics:
* Position: Tight End/Safety/Outside Linebacker
* Jersey: 37
* 40 yard dash: 5.01 seconds
* Bench Press: 90 kg (198lbs)
* Height: 182 cm (6' 0")
* Weight: 72 kg (158 lb)
* Blood Type: AB
* Birthday: April 10
* 1st year student
A man with an odd and rather foolish attitude, and is apparently quite oblivious to the silliness of his actions. He was first introduced in the series when Sena met him in the San Antonio stadium (Natsuhiko was trying out for the team there). He has a habit of opening his jacket to bare his pecs, making weird poses like rising up his leg 180 degrees and is often portrayed as a ladies-man. His dream is to become a pro football star, even though he didn't know the rules, nor the positions, stating that he was an all-around super player. He couldn't play American Football in Japan; he wasn't qualified, so he went to America to apply for a position in the San Antonio Team by taking all the savings in his house to fly to America. He failed; however, the coach did praise him on his potential and asked him to try out again after gaining some experience in high school football. Sena passed the pro-tryouts as Eyeshield 21, (though he and the Taki siblings left before his name was announced). Sena, feeling sorry for him, sensed that Natsuhiko had potential and that his talent shouldn't be wasted, asked him to join the Devil Bats back in Japan as a Tight End. He manages to qualify as a Devil Bats team member after undergoing the rest of the Death March.
Although he's quite the clueless, narcissistic fool, he is undeniably a very good (not to mention useful) player in the team. His personality is noted to be gentlemanly, but he's still an idiotic, competitive showoff. During the Bando Spiders game, after getting thrashed pretty badly by Akaba of the Spiders, Natsuhiko gets serious for the first time, and manages to out-perform Akaba. He also began wearing his hair in a samurai topknot. However, after getting a tiny bit of praise, he reverts back to his usual idiot persona. Though not a major player in the surprise win over the Nagas, Natsuhiko made key blocks and catches throughout the game. Natsuhiko's height and leaping ability also helped Monta cover Sakuraba during the match against Ojo. He also plays a part in the final play of the game in Hiruma's Killer Hornet tactic.
Monta harbors an intense dislike towards Natsuhiko; in junior high, while Monta was taking an entrance exam, Natsuhiko approached Monta and asked him whether a book he found earlier, Son Son (with a picture of a chimpanzee on it) was Monta's, since he thought that Monta looked like a chimp. Natushiko's flexibility is also comparable to Monta's, further deepening their rivalry.
There are several key instances that show his idiocy, one of which is the ability to understand directions. Before the match against the Amino Cyborgs, he made Sena and himself take the wrong bus to Nagano; however, thanks to Hiruma and the Zokugaku Chameleons, Sena eventually got back to play in the match in time. But then, Natsuhiko got lost (again) by taking the wrong train back. In the end he missed the game, yet Hiruma later claimed he was not going to play anyway since he had yet to enroll at Deimon. He is also an idiot when it comes to academics. He proudly announces that he only knew up to the 6 times tables, and said that 9 X 9=18. However, if he associates the questions with football, then he gets it right and it was through this method that he was able to cram for the entrance exam. Hiruma was about to assassinate the examiner in Deimon to make Natsuhiko pass, but the examiner concluded that he passed (barely) and was eligible to enroll in Deimon High School. When Hiruma injured and Deimon had to choose another quarterback, Ha-Ha Brothers quickly rules him out thanks to his stupidity and narcissity ("He'll likely try to run the ball on his own").
He always addresses Suzuna as "My Sister". His catchphrase is usually a loud "AH-HA-HA!", and exclaiming that he has a 150% success rate at anything he does. This usually leads to the Ha-Ha brothers being irritated at him.
TECHNIQUES/STRATEGIES
* Flexibility - Taki's body is incredibly flexible, which allows him to bend and contort at extreme angles to make catches or blocks. It also helps him to makeshift his gravity point quickly, making Akaba's Spider Poison ineffective.
* Power Off Tackle/ Gentle Prince Tackle - Basically it's a one-man Sweeper using just Natsuhiko to open a smaller path for Eyeshield to run through. He can also do this with helps with other player,though.
* Prince Gentle Hurricane - Taki's own variation of Sena's Devil Bat Hurricane, he lifts up one of his legs and spins around with the football down the field. Unfortunately, the technique is easy prey against an opposing team's defense and is considered more for show than effective.Read more in wikipedia