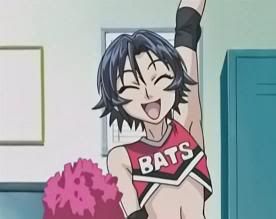 Suzuna Taki Information :
* Position: Cheerleading Captain (self-appointed)
* 1st year student (Grade 10)
Suzuna is a cute blue-haired girl who's always wearing rollerblades. She came to the United States and hitched a ride with one of the bikers of a bike gang. Sena first met her after he got lost halfway through the Death March and was surrounded by a whole lot of American bikers - Sena being Sena, he couldn't really communicate with them. However, one biker mentioned the words 'Japanese girl', 'Football player', and 'Japan', and Sena assumed said biker was talking about Mamori, and immediately went off in search of the aforementioned Japanese girl. The 'Japanese girl' term was actually referring to Suzuna, and 'Football player' Natsuhiko, her brother. Suzuna was looking for her brother, and in that same respect, met up with the 'Football player' assuming that it was Natsuhiko. The bikers then assumed they were boyfriend and girlfriend (cheering them on with "C'mon, hug! Kiss! Hug!", but the fact was that Suzuna and Sena were not in a relationship). She eventually finds her brother and beats the living daylights out of him for taking the family savings to fly to America. She also witnesses Sena in action as Eyeshield 21.
Later, Suzuna follows the team back to Japan after her brother accepts Sena's offer to join the Devil Bats (he didn't get picked for the American football team he was trying to enter). She then becomes a cheerleader for the Devil Bats even though she's not from Deimon High School (and the captain for the otherwise all-American cheerleading team). Now, the club has a second female member in the group.
Suzuna is built like that of a young girl, and is often teased mercilessly by others because of that. One thing to note is that she does not like to be addressed by her family name or be called Miss, (in Japanese, using the term 'san') however she does not mind being called Suzuna-ojōchan (little miss or young lady) by Doboroku.
In the anime, Suzuna was introduced earlier in the timeline as a part-time reporter, working for the magazine American Football Monthly to discover Eyeshield 21's identity. Her reason was to find her long-lost brother, whom she suspected was Eyeshield 21. Realizing that Eyeshield 21 was too short, however, she then leaves for America due to a tip from Hiruma. She later meets up with the Devil Bats during their Death March training. (Source: Wikipedia)