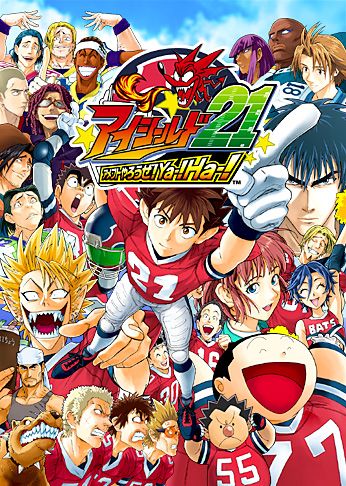 Plot of Eyeshield21 :
The plot of Eyeshield 21 revolves around a physically unassuming and non-assertive boy named Sena Kobayakawa who enters the high school of his choice, Deimon Private Senior High School, where his childhood friend Mamori Anezaki who attended the year before. His only remarkable physical abilities are his running speed, and intense agility; The result of a school life spent complying with the demands of bullies, it was revealed later a friend taught him how to run quickly as a base. His abilities quickly catches the eye of the high school's American football team captain Yoichi Hiruma who forces Sena to join the Deimon Devil Bats as its running back.
To protect his identity to prevent other teams in the school to recruit him for his speed, Sena is forced to publicly assume the role of team secretary, and enter the field wearing a helmet equipped with a green-tinted eyeshield in order to hide his features under the pseudonym of "Eyeshield 21". The makeshift team initially takes part in the Spring football tournament hoping to win with through the strength of their new "secret weapon." However, the extremely weak team is eliminated early on by the Ojo White Knights, a powerhouse football team that focuses on defense. It is in this game that Sena meets the man he will acknowledge as his ultimate rival, Seijuro Shin, a talented linebacker.
After Deimon's defeat, the Spring tournament is revealed as a secondary in importance to the Fall tournament, where the teams compete for the chance to play in the "Christmas Bowl", the high school football league championship. Hiruma, Kurita and Sena regroup and slowly build a real team from other misfits and students looking to define themselves, such as Tarou Raimon a baseball player who can only catch, The Three Ha-Ha Brothers. Other characters slowly join the team as the series follows the building and growth of the Deimon Devil Bats and its members as well as various rival teams as they all strive to achieve their goal of playing in the Christmas Bowl.
Source : http://en.wikipedia.org/wiki/